DISCLAIMER: THERE ARE AFFILIATE LINKS IN THIS POST. THIS MEANS THAT AT NO COST TO YOU, I WILL RECEIVE A SMALL COMMISSION IF YOU PURCHASE THROUGH MY LINK.
Are you thinking of your Polaris RZR tuning? So, you must get the best tuner for RZR Turbo.
When you think of going out of the vehicle's built-in performance, you need a tuner to tune the programs and set them according to your desire output. And if you're on the same path, our selective results for the RZR turbo tuner can help you with half of the job done.
Yes, here you will know about some of the top tuners for the RZR turbo, along with a complete guide to help you make the right purchase.
5 Best Tuner For RZR Turbo
Product Name
Fits For
Key Benefit
Price

Our Top Pick

– Dynojet Power Vision Tuner
Polaris XP Turbo(16-20)
Comes with an OEM connector
Details On Amazon

Our Budget Pick

– Dobeck Performance Programmer
XP 900, 1000
Backed by 2 years of warranty
Details On Amazon

Our Popular Pick

– Super ATV Polaris Tuner
RZR(17-18), XP 1000
Quick flash for factory program restoring
Details On Amazon
Our Premium Tuner- Hypertech Max Tuner
XP/XP4(15-20)
Color screen benefits in easy view
Details On Amazon
Pedal Commander Throttle Response Controller
All RZR Models( 2012+)
4 modes with 8 sensitivity adjustments
Details On Amazon
Let's explore the RZR Turbo tuners for the ultimate RZR Turbo performance upgrades.
#1. Super ATV Polaris Tuner-  Handheld ECU Tuner for the Ultimate Upgrade
Max Rev Limit

Max Torque Gain
Max HP Gain

Vehicle Fitment

9,200 in stage 1

9,500 in stage 2

2 ft lbs on both stage
4 to 8 in stage 1

7 to 9 in stage 2

2017-18 Polaris RZR XP 1000
Super ATV gives you the chance to ride with the fullest power of your Polaris. You can increase not only the stock rpm but torque and horsepower.
You can either flash the ECU program and tune it or switch between the stock tuned programs.  And this has been tested by Dyno.
With this tuner, you can increase the power up to 18 Hp. In stage 1 tuning, you get 9-15 Hp, and in stage 2, it assists with 11 to 18 Hp of power. You get a drastic upgrade on rough rides.
In terms of torque, you can gain6 to 8 ft.lbs of torque in stage1 and 7 to 9 ion stage 2, which brings a visible change in ride and fuel consumption. You can even remove the torque limits.
The amazing fact of this RZR tuner is you can increase or decrease the speed limit with this so radically. In stage2, it lets you increase the maximum 9200 rpm speed, which is quite advanced than the stock speed.
This ATV tuner's easy user interface is easy to start, flash the tune, and enjoy superb performance. In addition to that, this tuner lets you get back to the stock throttle program also.
Bottom Line:
In short, for the throttle control to the horsepower, rev limiting to torque-speed programming, this handheld ECU tuner is a source of great advantage.  It is available with the stage 1 and stage 2 tuning and also restorable to the factory specs.
#2. Dobeck Performance Programmer- Unique Technology EFI Tuner with Water- Resistance
Details On Amazon
| | | | |
| --- | --- | --- | --- |
| Max Rev Limit | Working Module | Available maps | Vehicle Fitment |
| No specific gain | Uses unique load based 'Alpha-N' technology | 11,390,625 | 2015-17 Polaris RZR XP 1000/900 |
The EJK (Electronic Jet Kit) from Dobeck Performance is s stage 1 tuner with improved fuel consumption output.
This EFI tuner comes already pre-tuned with some stock programs for the air intake and exhaust performance upgrade.
It will not change the stock throttle program, rather change the exhaust performance. After tuning your Polaris with it, you get an aggressive exhaust with upgraded sound you will feel.
To use this tuner, you neither need mapping nor any CPU or software. This comes with the features of just plug-and-play type. You can connect the plug with the throttle line and tune it with the 3 push button interfacing easy-operatable tuner.
DobeckEJT comes with water-resistant features that let you the opportunity to tune anywhere at any time. Again, it uses its own load-based technology that does not change the stock program.It cantune the drive cycle performance and ensuring a smooth upgrade in the exhaust.
Within minutes you can tune your Polaris fuel performance and make it perform better than ever, even with the aftermarket kits.
In the case of California, it has some legal tuning restriction for the California Air Resources Board (CARB) Regulations. If you are residing in California, you need the controller's approval and ensure that you can have this.
Bottom Line:
With Dobeck performance EFI tuner, you can enjoy the dynamic tuning smoothly, and no need to download any maps or additional tools. With only 3 push buttons, you can roam around the 6 modes of adjustment and make your  RZR intake and exhaust upgrades.
#3. Hypertech Max Tuner- Optimum Tuning Facilities with a Color Screen Interface
Details On Amazon
| | | | |
| --- | --- | --- | --- |
| Available custom tunes | Max HP Gain | Available Stages | Vehicle Fitment |
| 100 tunes | Up to 9.2 HPon 93 Octa tuning | Up to stage 3RG | 2017-20 Polaris RZR XP,XP4, Turbo, Turbo S |
Hypertech brings something innovative to the tuning world. The maximum upgradeable features with a different user interface.
This is the most value-performing tuner ever in stores. It has a color screen display that is large enough to operate correctly and features vivid visibility in daylight.
It offers you industry-leading performance tuning with great upgrading features. Not only this, you can even diagnose the trouble codes with the stock program in Hypertech power performance programmer.
It is one of the best tuner for RZR turbo with so many tuning pathways.  You can increase the Horsepower 9Hp more than the factory Hp. Also, it allows some other additional upgrading features.
For the premium Octane fuel, RZR turbo and turbo X gets some exceptional upgrades with 3 different tuning options. For the racing fuel, you get a tuning mode, which can increase up to 42Hp.
Hypertech 3200 Energy Spectrum is an all-in-one performance tuner. It works like an EFI tuner, speed limit increaser, temperature performance tuner, and even a code reader.
Some tuner works only with the stock tire, but Hypertech can work well in aftermarket tires too. So, every upgrading is possible with this all-in-one tuner with color display features from speed increasing to fuel consumption.
However, if you need can download and install the stock performance program and get back to the factory performance anytime. Also, it lets you upgrade over the internet using the USB cable or CD that comes with it and enjoy the updated performance tuning.
Bottom Line:
This multi-purpose programmer with the colorful screen visible in daylight is ideal for maximum mileage increase. It might leave you with no option but use only once on one vehicle, but you get the higher after the usage. Either you wish to upgrade the throttle response or do some upgrading with the speed limit or rev limit, Hypertech max tuner gives you the chance to do so.
#4. Dynojet Power Vision Tuner- Budget-Friendly Tuner with Preloaded Tunes
Details On Amazon
| | | | |
| --- | --- | --- | --- |
| Available programs | Available tuning | Power gain | Vehicle Fitment |
| Up to stage 3 | Optimized for 91-93 octane fuel | Optimized for maximum raise | 2016-20 Polaris RZR XP Turbo |
Dynojet Power tuner lets you connect the tuner with your vehicle using an OE quality diagnostic connector. With real-time displaying of the tuning data, you can tune the ECU upgrades.
It is a weather-resistant tuner that means you can use this tuner at any temperature conditions. Then again, it has a high contrast viewing display that benefits in tuning the vehicle directly under the sunlight that's so cool.
Do you want to rev up your Polaris RZR Turbo performance with the maximum torque and power? Using Dynojet Power Vision tuner, you can raise the rev limit and speed limit along with a superior viewing quality.
Dynojet Power vision tuner comes with preloaded tuning software, and so you don't need to download any data. However, if you wish can download it from the Dynojet websites free of cost too.
What is more,the Dynojet Polaris RZR turbo tuner is compatible with Windows 7 and other versions. So, you can download and load the tuning programs and tune them with your riding tune.
Bottom Line:
Dynojet tuner comes with a wide range of preloaded tuning performance programs; you can download and load more according to your riding quality as well. A screen of high contrast quality and usable under direct sunlight makes it ideal to use on the go. You can get this tuner with lifetime technical support and warranty support for one year.
#5. Pedal Commander Throttle Response Controller- Acceleration Modes to Eliminate Turbo Lags
Details On Amazon
| | | | |
| --- | --- | --- | --- |
| Available programs | Program criteria | Power gain | Vehicle Fitment |
| Fast, responsive throttle control | 36 different driving features | Optimized for maximum raise | 2012+ Polaris RZR XP, Turbo S |
Pedal Commander brings a programmer device for those who wish to unleash the power of RZR Turbo engine performance.
Yes, Pedal Commander is a tuner less but a throttle controller with a complete acceleration upgrade of the Turbo RZR.
It is Bluetooth enabled device, and so you can operate it using your android devices. Just plug and play type programmer for the throttle control response.
Here, you get 4 modes to use- the 4X4, offroad, track, and race mode. Then again, you can use this device and level up your RZR speed with its 8sensitivity adjustment levels.
Using the Pedal Commander Throttle Commander throttle response controller programmer, you get to speed up the acceleration almost up to 50,000 Hz/s, where the stock speed is around 500 Hz/s. So, it's a huge upgrade you can expect.
Bottom Line:
Want some speed acceleration more than the stock? Pedal Commander Throttle's response controller is here to ride with the highest acceleration gain. This award-winning programmer is backed by 2 years of warranty support and recommended by most professionals.
How To Pick the Best Tuner for RZR Turbo?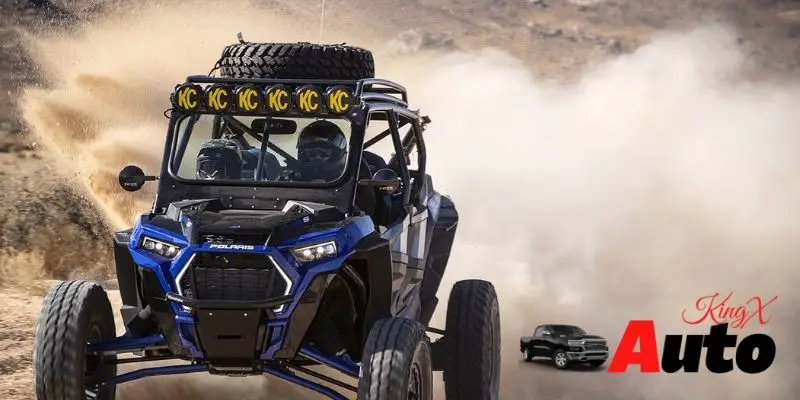 You decide to buy a tuner for RZR turbo, and you must consider some facts before you buy one. There is no point in buying any random one if not getting for what you paid. So, look for some significant features in your tuner before you make the purchase.
Choose According to Your Ride
You must choose the tuner according to your ride needs. It matters much in tuning how you ride and how much mileage speed you need.
Some tuner only tunes the throttling program, some only the exhaust, and some are to tune overall. So, ask your dealer to get you the right one.
Street Tuning or Dyno Tuning
Well, in tuning a vehicle, two terms come into mind the street and the Dyno tune. For Polaris Turbo Dyno, tuning is the ideal one to be done.  For an improved performance speed with the proper increasing Hp, you must ensure your dealer gives you a proper one.
Vehicle Compatible Tuner
Picking a vehicle-compatible tuner is crucial. If you don't get the correct one, the tuner may ruin the stock program and cost you more than the tuner in the long run. So, it would be better to choose the exact vehicle-compatible tuner to tune the programs.
Pre-Installed Tuning Features
Nowadays, different tuners with the pre-installed program are available for easy RZR tuning. You can check them if you are not expert enough to download over the air and tune your buddy RZR. In this case, the programmers with stock programs installed are easy to use and also beneficial.
Some tuners also feature the facilities to download maps and install a new program to upgrade the speed limit. However, If you can tune in such, keep that one on the top of your list.
Easy Tuning Interface
Last but not least, the user interface of the tuner is also considerable. If you are to tune yourself and you are not very expert, check for the tuner with an easy interface.
Modern UTV tuners are available in easily operatable display features, and some are even with touch screen mode.
No matter how and what stage you are tuning your engine, restore the factory program before taking your vehicle to the servicing center.
Frequently Asked Questions(FAQs)
Is it necessary to stay plugged in of a Tuner for RZR Turbo?
It doesn't need to stay plugged in. After tuning the RZR Turbo, you can remove the tuner and store it.
Why should I install a Tuner in the RZR Turbo?
A Tuner improves the horsepower and torque productivity of your engine. It helps to generate the air/fuel ratio as well as the ignition control for optimum settings. Overall a Tuner protects your RZR Turbo engine from destruction.
How I choose the best Tuner?
When you choose the best Tuner check features like OEM-style, weather resistance, display quality, speed limit, engine performance, and warranty. The best Tuner is comprised of all these things.
Wrapping Up
When you tune your Polaris, make sure the state where you are doing the tuning allows that sort of tuner's output. In some states like California have stringent regulations for safety purposes. Be sure when you tune.
However, if you want superior output higher than the factory performance, you need the best tuner for RZR Turbo. This review will get you the right one to craze up with your Polaris.